Young women have it made in more ways than one. With their perfectly smooth lips, it's a simple matter for them to apply even the darkest of goth lip colors in a nano-second, and run out of the house confident that their lipstick will not seep into the nether regions beyond their vermillion border.
Once a girl gets into her 50s and beyond, she needs to commit to spending a little more time ensuring that her pout doesn't peregrinate. Now, please understand that I certainly don't expect you lovely ladies to use this technique while readying yourself for your routine, day-to-day activities. However, if you want to really have your lip game on point for a big night out, here's what to do:
1. Use a freshly sharpened lip pencil to carefully draw the outline of your lip. Here is where you can begin to do a little cheating. Most of us do not have perfectly symmetrical lips, or we would like our lips to be a little fuller. In either case, take a close look in the mirror and decide where you would like to add or subtract. Don't go overboard and take it to drag race territory.
2. Apply a matte liquid lipstick to the back of your hand or palette (OCC Lip Tar
, Anastasia Beverly Hills Liquid Lipstick or Make Up For Ever Aqua Rouge are all good choices).
3. Take a good lip brush, dip in the product, and begin to carefully fill in your lips. This is a case where it is definitely okay to stay inside the lines. Liquid lipstick takes a minute to set, so let it dry and see if you need to apply any more. Don't go too heavy; you want full coverage, not caking and cracking.
4. The younger crowd can get away with leaving the liquid lipsticks matte if they like. However, it's usually not a good look for my older girls as it can quickly go from gorgeous to grotesque. I recommend applying a touch of lip gloss at this point. Remember, you are going for dewy, not gooey, so use gloss sparingly. Also, too much gloss will cause your lip color to run.
5. At this point you probably have some little messes outside of your lip line. Even if you have used red or a dark color, you can erase all of your mistakes without leaving a pink halo around your lips. Simply put a drop of your foundation on the back of your hand and grab a small, flat, synthetic brush. Dip the brush in product and dab on the spot you want to erase. Wipe the brush off and go back to pick up the foundation. You will see that the spot is gone! Now, wipe your brush again and continue to define the area around your vermillion border with the foundation. Take your time with this step making sure that there is a nice, crisp edge to the lip color.
6. Now your will need to set the foundation around your lip with a powder. Clean off your small brush and dip into powder of your choice and carefully place around your lip. Take it slow. If you get bit of powder on the lip color, just go back in with a tiny dab of color and correct.
This should help prevent your lipstick from bleeding into those vertical lines that some of us get around our lips. The liquid lip colors should last all night unless you eat a bunch of oily food. You can take your small brush and powder compact with you to do small touch-ups if necessary.
P.S. Even my jaded, cynical, hawk-eyed 18-year-old son who knows everything said after the first time I did this on myself, "Wow, Mom, that looks gorgeous!" There is no higher praise.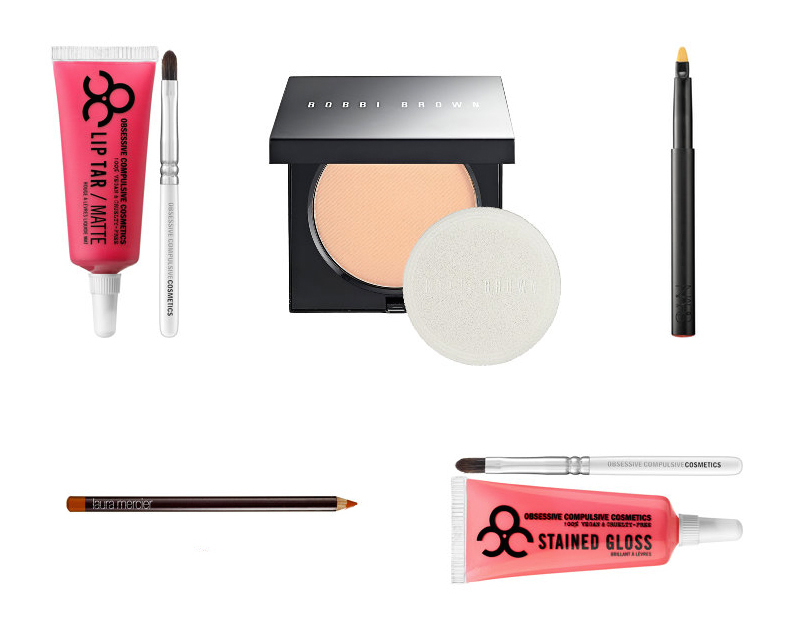 OCC Lip Tar (at Sephora for $18)
Bobbi Brown Sheer Finish Pressed Powder (at Sephora for $38)
NARS Precision Brush Lip #30  (at Sephora for $26)
Laura Mercier Lip Pencil (at Sephora for $23)
OCC Stained Gloss (at Sephora for $18)
Heidi Dillon has lived in Dallas for the past 21 years and is, frankly, over it. So a few years ago she founded, together with a couple of Hollywood producer-types, a television production company that cranks out "unscripted" stuff. Last summer, while vacationing with her family in Malibu, her little company was experiencing a lull in activity, so she decided to become a makeup artist. Fortunately, LA is close to Malibu, and LA is an epicenter for the top makeup artists in the world. One thing lead to another, and she ended up getting some training from Scott Barnes. She was hooked and has since been on a tear to learn everything she can about makeup artistry. Recently she attended an intensive training course at MakeupForever Academy in New York.
Heidi is 62 and knows she doesn't look it. She has a generous and patient husband, a Nordic hunk of a son who is 18 and a Labradoodle named Ralph.