UPDATE: Shoe Goddess responds to Heidi's post!  
As much as I sympathize with Heidi's pain, I wonder if there was any preliminary sign to her foot situation and if she always wore well made shoes? I kind of see the article as a terrible blow to all the women (aged 50+) who gracefully wear high heels without the need of a trainer to teach them how to keep their balance in their high heels.
This article also seems complete nonsense to me as a 45-year-old French woman, who has been wearing heels since I was 16 years old. I understand both Heidi and her mother's issues with high heels, but I also wonder if there were any steps that could've been taken before reaching the extreme. Although narrow shoes and high heels can contribute to bunions (hallux valgus) there is also a hereditary factor and choosing the right pair of shoes is really important. (jump to read more!)
Unless a shoe has perfect balance, I stay away from it. Pointy and very tight shoes are also a big no no. Being married to a fashion designer and a shoe maker, I can tell you that brands like Nicholas Kirkwood, Christian Louboutin, Marni, Roger Vivier, Brian Atwood, to name a few, don't use a generic last. The lasts are handmade in their factories in Italy. It takes a long time to come up with the perfect last. There are a lot of steps in the process involving over 100 technicians and designers. First a piece of wood is sculpted and carved to become the last. The heel is created in different materials, but it has to come together perfectly with the last. Then the upper, made of soft leather, fabric, or any material, is stretched to mold to the last. The lining is then stitched to the inside of the leather. The sole is sewed to the upper. Once these processes are completed, the shoe is transferred to a machine that simulates walking. The shoe is tested for at least a whole day before being approved.
Besides buying quality shoes there are a few things you can do to help your feet. Massaging your feet daily with oil right after a shower can help by reducing inflammation (which also can be a form of arthritis). There are also a large selection of padded inserts readily available on the market that will provide a tremendous help. We really like Foot Petals. Regular pedicures and the use of a foot cream at bedtime are a must. My favorite is QTICA Overnight Intense Foot Repair Balm. Also don't hesitate to take off your heels and slip into a cozy pair of slippers as soon as you get home. Your feet will thank you!
I am not too worried about the future of high heels because even if bunions are a major issue that should be addressed seiously, women are not ready to give up the beauty and elegance of a fabulous pair of killer heels.
——————————————————
Heidi's original post———————————————–
As I grow older, my deepest fear is that I will lose my ability to wear high heels. If you take a look around, you will notice that most women over the age of, say, 50 have turned in their hot Nicholas Kirkwood skyscrapers for more "sensible" shoes. My mother, at 85, hasn't been in a pair of heels for at least 30 years. I am now 55 and my fear runs so deep that I actually instruct my trainer to make me do exercised specifically designed to keep me balanced in my excruciatingly high heels. It's all about the core and leg strength. Even though I train diligently 5 or 6 days a week, I still feel like I'm teetering on the edge of disaster every time I go out in a pair of my beloved Fendi's or Lanvin's.
I only wear killer shoes, as a rule, in the evenings and I usually need two spotters to get me safely from my car to a bar stool where I can then swing my beautifully clad feet around in an amusing manner. The beginning of this downward spiral began three years ago when I had massive foot surgery. Because of my life-long love of fabulous footwear, I developed two bunions and eight hammer toes. (Heredity and years of slamming my feet on the aerobics floor may have hand a hand in this disaster as well). Post-op I was given the most hideous booties and a walker. Honestly, just having a walker made me feel like an old lady.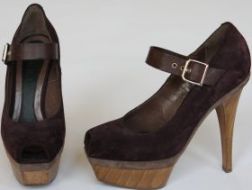 I will never forget Tina coming to visit me, bearing a bottle of Cristal (though I was in excruciating pain for months, that and a couple of Extra Strength Tylenols were the only pain-killers I needed). I wanted to go out with my husband that evening, but just couldn't see myself making an entrance with a walker. Tina and I tried to make it work by draping Hermes scarves on it, but it didn't help. Exasperated, I gave the damn thing to my son who promptly dismantled it and made weapons.
When Bill and I arrived at our favorite restaurant, I had to be carried in. It took six months for the swelling to go down enough just to get into a pair of sneakers and awful looking Taryn Roses' that I purchases especially for the occasion. Every day I sat in my closet looking at all of my beautiful shoes and cried. A year post- op I was back in my highest heels. Now, most days, I wear my Nikes or flats and save the heels for evening. I pray the day never comes that I have to give them up all together.
Heidi Dillon is the founder of The Fashionistas